I have clearly had a minor obsession with the notion of and practice of pedophilia lately. I didn't think much of it when I saw Lolita on a friend's shelf and decided that I was really craving for that book. In Lolita, I was shocked by some of the candid sexual writing about very young girls, and the honest desire of youthful sexuality. Humbert Humbert was not interested in women, he was interested in girls.
The love of girls is what has begun to fascinate me so much. This taboo event is so highly criminalized psychoanalytically and yet the voice of the girl-lover seems so innocent. "Ah, leave me alone in my pubescent park, in my mossy garden. Let them play around me forever. Never grow up" (Nabokov, 1955; 20-21). A few days after beginning Lolita, I went to an exhibit at the Neue Gallery in New York City to see an exhibit on the Brucke movement. Understanding that German Expressionism covered various topics of ideology and intellectualism, I was not particularly looking for portraits of pubescent girls, but the images I found so striking were those of of a young girl called Franzi. Used as a model by a few of the Brucke artists, there was a wall dedicated to the portraits of her. The girl, her real name Marzella, and her sister were used as models as young as 9 years of age. Some of the photos, in the perspective of today, are a bit crude. We are not used to seeing nude portraits of 9 year old girls. At least I know that I am not. What I found even more interesting than the constant use of such a young girl in these portraits was the different reflections upon her by the different artists.
Here is the first one that I noticed, Franzi in front of Carved Chair by Ernst Ludwig Kirchner: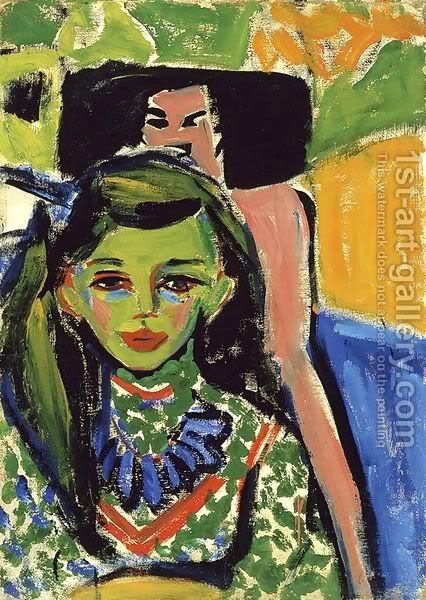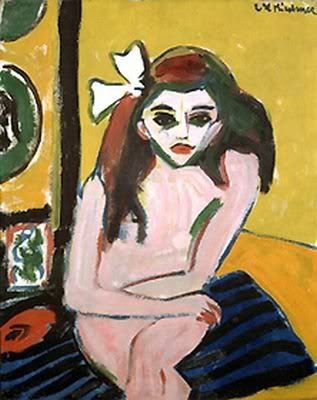 </a>
This one I immediately noticed within the theme of sexuality in young girls. I remember thinking that I had never seen an image of a woman that seemed so deliberately desexualized. Franzi, in this painting, is so androgynous she almost does not even seem like a body. Her chest shown completely flat with no color, texture, or plane. The hair style and bow giver her away as a girl (and seemingly a very young girl at that, which I will differentiate when I look at the other painting), her legs crossed and her arms and shoulders obviously tell us that this is a human body, but her chest and lap have been so androgenized that it is almost grotesque.
The next image I saw brought the theme of girl love to the forefront of my thoughts on these paintings. Erich Heckel's Girl With Doll: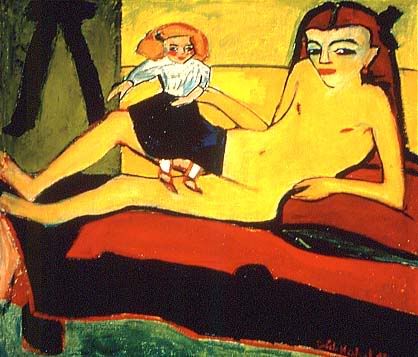 There is a major jump from young girl, asexualized, desexualized and abjected from sexual existence to young girl eroticized and arranged with an object that IS desexualized to bring about a concrete sexuality in her. This image is sexual (especially in contrast to the paintings of Franzi by Kirchner) in many ways. The girl's position (and contrast to the position of the doll), posession of erotic zones, nudity (and contrast to the existence of clothing on the doll) all signal sexuality or the existence thereof. In regards to the bow in her hair (as small and insignificant of a detail as this may seem to the subject of sexuality), it is much smaller than those Kirchner uses, and is also black, a less girlish and more tempting color). However the bow exists, signifying her as sexual yet still a girl. As well as the existence of the erotic zones, breasts, nudity, skin color (as opposed to the use of non-human white by Kirchner), it is a girlish sexuality and not a mature one. Her breasts are not that of a woman's, her hair is not that of a woman's, her body is small. She is obviously a girl. A sexual girl.
In comparing the paintings by Kirchner to those of Heckel and putting these both in the light of Lolita by Nabokov, the love of the sexuality of young girls is almost normalized. As Kirchner tries to downplay the "woman" in Franzi it becomes even more blatant that that "woman" is there. Especially when placed right next to a portrait of the same girl by Heckel. These differences are not even within aesthetic choices. They are obvious differences in the style of ideology and not within the skill of painting. "...Lolita had already proved to be something quite different...and that the nymphean evil breathing through every pore of the fey child that I had prepared for my secret delectation, would make the secrecy impossible, and the delectation lethal. I should have known (by the signs made to me by something in Lolita - the real child Lolita or some haggard angel behind her back) that nothing but pain and horror would result from the expected rapture" (Nabokov, 1955; 125).
Nabokov, Vladimir. Lolita. Vintage Books, New York: 1970 (for Annotated Version), original publication in 1955.